home Acrylic Awards

acrylic awards - acrylic paperweights & plaques
Acrylic Awards - Main Page - 800-520-1691 ext 208
These acrylic paper weights are lower cost acrylic gift pieces that work well for many clients. These are not Lucite embedments but acrylic awards that are crystal clear, have a nice weight to them, and the look of Lucite at half the cost. You cannot insert any product or text in these acrylic shapes, but we can silkscreen the front or back of the acrylic recognition award and you can add a color photo for a great "3D" look. The acrylic sizes shown are standard and are priced as shown. We have other acrylic sizes available. Browse this entire page for acrylic product shapes. If you are looking for a custom molded recognition piece in smaller quantities, than Lucite is your award choice. Lucite is the liquid form of acrylic which is cast, with your document permanently inside. 25 piece minimum.
25 piece minimum. Custom sizes always available, please call us for quote.
Surface Printed Paperweights Below
---

2033
PhotoImage Full Color 3" x 5" Rectangle

2034
PhotoImage Full Color 4" x 6" Rectangle

2039
PhotoImage Color Circle

2-1/2" x 4" 2043

3" x 5" 2044
Clear Rectangle - many sizes


2045
4" x 6" Clear Rectangle

Clear Square or Rectangle

2050
Clear Triangle's


2047
Square's

2048
Square

2049 2066
Stars
Clear 5" x 5" Star

2040
PhotoImage Beveled
2060
Clear Beveled


2055
Clear 4" dia Circle
---

2020
Starlight Award - Large

2021
Starlight Award - Medium

2022
Rock Star Award - Large

2061
World Award - vertical

2062
World Award - horizontal

2063
Star Award - vertical

2064
Acrylic Star Award - horizontal

2066
Star

7525

Jewel Award with Piano Wood Base


2080
Portrait Acrylic Award

2085
Declaration Award

2065
Shooting Star Award

2092
PhotoImage Portrait Award

2094
PhotoImage Award

2110
Pentagon Award

2093
PhotoImage Peak Award

2119
Peak Performance Award-Gold

2120
Peak Performance Award-Silver

2112
Leaning Award

2113
Circle Award - Jade Acrylic

2114
Clear Dancing Star

2115
Jade Moving Star

2116
Superstar Acrylic Award

2117
Starlet Acrylic Award

2118
The Atlas Acrylic Award

7503
Flame Award

7504
Circle Award - Jade

7504C
Circle Acrylic Award - Clear

7504G
Small Jade Global Award

7505G
Medium Jade Global Award

7507
Medium Circle Award with Piano Wood Base - Clear

7512
Zenith Acrylic Award

7523
Jewel Acrylic Award
Entrapments

Dollar Bill
Entrapments

The Instant
Entrapment

Credit Card
Entrapment

CD Trophy
Entrapment

The Card
Showcase


(Discontinued)



One-Sided Credit
Card Sandwich

Two-Sided Credit
Card Sandwich

ECONOMICAL ACRYLIC SOLUTIONS:
Add-Ons

Block Paperweights

Diamond Awards

Econo Awards

Shaped
Paperweights

Tombstone
Econo Award

Dome
Add-Ons

Triangle
Award Set

Acrylic Display Cubes and Showcases

Curved Acrylic
Plaques

Econo Acrylic Plaques
for desk or wall

Acrylic Pyramid
Showcase, Inserts & Bank


Surface Printed Plaques (for Sandwiches & Certificate Holders click here)
---

1300
Silkscreened Acrylic Plaque

1301
Silkscreened Acrylic Plaque

1302
Silkscreened Acrylic Plaque

1350
PhotoImage Plaque

1351
PhotoImage Plaque

1352
PhotoImage Plaque


1305
Sm Spectra Lite Award


1306
Med Spectra Lite Award


1307
Lg Spectra Lite Award


1370
The Profile

1371
The Verse

1372
The Highlight

1373
The Celebrity

1376
Silver Circle Acrylic

2104
Magnet Frame

1378
Silver Rectangle

2103
Magnet Frame

1380
The Classic Acrylic Plaque

1381
The Solution Plaque

1383
6" x 8" Logo Plaque

1384
8" x 10" Recognition Award Plaque
1387

Black Back w/Silver Diamond Plate

| | | |
| --- | --- | --- |
| | Signs | |

Applications include: membership, program participation and desktop reminders.

Flat
Signs

Stands and
Hangers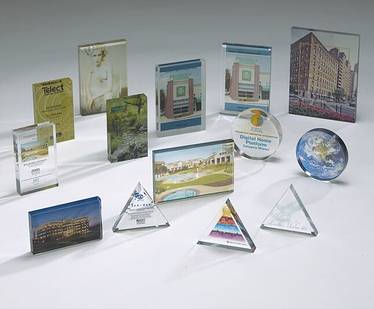 4-color Process Screened Blocks: 3" x 3", 3" x 5", 4" x 4", 4" x 5", 5" x 5", 5" x 6", 5"x7", 6"x8"
CALL FOR PRICING ON ANY SIZE - 25 PIECE MINIMUM EMAIL FOR A QUOTE
FOR SANDWICHES:
Desktop

rectangles, squares etc. Wall

-hanging style
Credit Card

CD or Business Card

Certificate Holders Wall Plaques Magnetic Sandwich
A Better Idea Acrylic Awards is the leading manufacturer of Acrylic & Lucite Awards in the USA. Offering a complete line of beautifully designed, affordable recognition awards to suit any budget... from financial awards to the most prestigious corporate awards, your recognition awards dealer has an Acrylic award to suit your needs. The leading site for acrylic paperweights, acrylic plaques, acrylic encasements, and acrylic entrapments! Choose recognition awards that have a lasting impact and classic in appearance and design. Choose LuciteTombstones.com!
800-520-1691 ext 208
Acrylic Awards from A Better Idea are available factory direct for the best pricing. Ask for our LuciteTombstones awards by name.
Acrylic Awards from A Better Idea!... a distinctive choice!
Acrylic Paper Weights & Awards from A Better Idea!... a distinctive choice!
If you need to insert your logo, add a product, or make a custom size tombstone, you are looking for "Lucite"
CUSTOM LUCITE EMBEDMENTS
Standard Shapes #1 Standard Shapes #2 Special Shapes #1 Special Shapes #2 Printing Processes
Special Shapes #3 Shapes w/ Bases Custom Molded Shapes Theme Pieces Special Awards
800-520-1691 ext 208
home | search products | contact us | shipping + ordering information
artwork | disclaimer sitemap


1151 Aquidneck Avenue, Suite 498, Middletown, RI 02842 USA
Copyright © LuciteTombstones.com, 1991-2008 All Rights Reserved.