special shapes 1
These standard shapes are available in many sizes. Once you have chosen the desired shape for your custom award, you must decide the approximate size needed and the artwork requirements.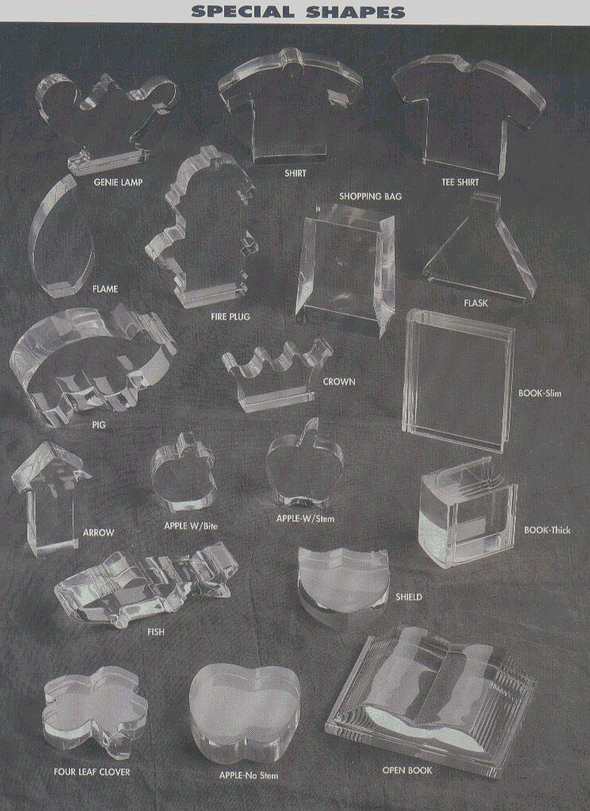 Here is the easiest way to get a rapid quotation for your project:
a) Choose the shape/s you are interested in
b) Settle on an approximate size you would like. (Lucite is price on volume...it's a liquid)
c) Decide on what you would like embedded.
d) Call us for a RAPID quotation!
Of course, we can help you decide the appropriate shape and size for your project, or help you in your artwork design for the piece. Please call us at 401-841-5646 x 201 to discuss the many options.
(click below to view a variety of shapes)
*Standard Shapes #1

Rectangle, Square, Wedge, Triangle, Round, Pyramid etc

*Standard Shapes #2

Cubes, Ball, Dome, Cylinder, Obelisk, #1, Diamond & more

Special Shapes #1

Books, Flame, Shirt, Pig, Shield, Apple & more

Special Shapes #2

House, Stars, Cell Phone, Cars, Trucks, Hats & more

Special Shapes #3

Cloud, Iceberg, Mountain, US, States, NY, CA

Special Shapes w/ Bases

Drop, Flame, Star, Lightbulb, Map, Capitol, all w/ bases

Custom Molded Shapes

Custom Shapes, Sizes w/ different ideas

Theme Pieces

Ground Breaking, Oil drop, Opening, Hardhat, Shovel





3-D Cast Parts

Diagram & Special Quote Required



Machining

Diagram & Special Quote Required



Laser Cutting

Diagram & Special Quote Required



Mini Metal Castings Inside

Metal Castings in gold or silver shown in Lucite



Metal Castings

Sample Metal Castings, Thousands of shapes available.

Acrylic Stock Shapes

Surface screen only. Stock size & shape. No embeddding.
additional options:
401-841-5646 x201

home | search products | contact us | shipping + ordering information
artwork | disclaimer
401-841-5646
1151 Aquidneck Avenue, Suite 498, Middletown, RI 02842 USA
Copyright © LuciteTombstones.com, All Rights Reserved.

Back to Main Lucite Page Standard Shapes Page 1 Standard Shapes Page 2 Special Shapes Page 2 Home